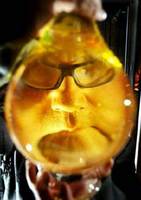 Mystery surrounds Ukraine's popular pro-Western opposition leader's mystery ailment.
Since 9/10/04, Viktor Yushchenko's appearance-altering sickness has twice prompted him to check into Vienna's private Rudolfinerhaus clinic. Speculation of the cause of the mystery ailment has run the gamut from bad sushi to deliberate poisoning by his enemies using toxins from biological weapons.
Attending physician, Dr. Nicolai Korpan, who oversaw treatment at the exclusive Rudolfinerhaus clinic, says the cause of Yushchenko's illness is "totally open". When pressed, however, Dr. Korpan added, "I have never seen eating bad sushi induce a teardrop-shaped head in any of my other patients."